Working Principle:
Wet material is input into the hopper. The stove(boiler) generates hot air, hot air mixed with wet sawdust and then sucked into the pipes by the exhaust blower(fan) , flowing and go though the curving pipes and buffer(drying chamber) of dryer, thus the wet sawdust is dried, and the dried sawdust is discharged from the outlet with air lock.

This type of dryer is suitable for drying heat sensitive material which is light and small like sawdust, rice shell, milled stalks etc. Generally Wet material can be dried in a few minutes.Comparing with rotary dryer, it has the advantages of low energy comsumption, low cost, it's in simple design but have good effect as well.
The feeding of fuel for boiler is by manual.The fuel can be wood waste like tree branch, tree trimmings, wood chips, coal or any waste that can burn (But Gas or Oil is impossible for the boiler now).
(1) Dryer model HGJ-I, HGJ-II, HGJ-III for lower moisture content 12-25%
The Moisture reducing rate of the dryer HGJ-I, HGJ-II, HGJ-III is 8-12%. This dryer is equipped with one hot air boiler, it is suitable for drying raw material with moisture content less than 20-25%.If the moisture content of the raw material is higher than that, it will need several times of drying to achieve the requested moisture content for briquetting.

| | | | |
| --- | --- | --- | --- |
| Model | HGJ-I | HGJ-II | HGJ-III |
| Capacity(Kg/hour) | 200-250KG | 400-500KG | 500-700KG |
| Size of Input Material(Diameter) | < 3mm & < 5mm | < 3mm & < 5mm | < 3mm & < 5mm |
| Temperature of Hot Air | 180°C~250°C | 180°C~250°C | 180°C~250°C |
| Consumption of Wood Waste | 15-20 kg/h | 25-30kg/h | 30-35kg/h |
| Power(Centrifugal Fan+Air Lock) | 4kw+1.5kw | 5.5kw+1.5kw | 7.5kw+1.5kw |
| Net/Gross Weight | 700/800kg | 1200/1300kg | 1800/1900kg |
| Dimension(m) | 6×2×3.65m | 9×2×3.65m | 11×2×3.65m |

(2) Twin boiler dryer model NHGJ-I, NHGJ-II, NHGJ-III for higher

moisture content 20-50%
Twin boiler dryer is a newly developed dryer with two hot air boilers, it is suitable for drying raw material with moisture content of 20% -50%, it can reduce moisture from 20%-50% to 8-12% only one passage or one time.
PS: For moisture of entering material 20-35%: Use only one boiler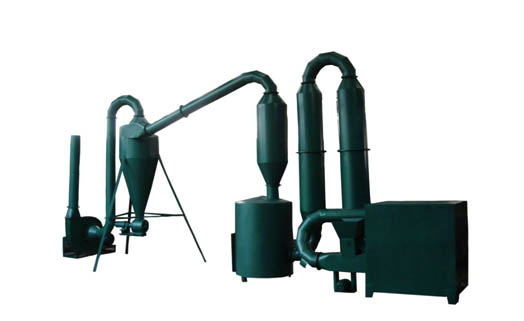 | | | | |
| --- | --- | --- | --- |
| Model | NHGJ-I | NHGJ-II | NHGJ-III |
| Capacity(Kg/hour) | 200-250KG | 400-500KG | 500-700KG |
| Size of Input Material(Diameter) | < 3mm & < 5mm | < 3mm & < 5mm | < 3mm & < 5mm |
| Temperature of Hot Air | 180°C~250°C | 180°C~250°C | 180°C~250°C |
| Consumption of Wood Waste | 40 kg/h | 60kg/h | 100kg/h |
| Moister content max % | 20-50% | 20-50% | 20-50% |
| Moisture of material after drying | 8-12% | 8-12% | 8-12% |
| Power(Centrifugal Fan+Air Lock) | 5.5kw+1.5kw | 7.5kw+0.75kw | 11kw+0.75kw |
| Net/Gross Weight | 700/800kg | 1200/1300kg | 1800/1900kg |
| Overall dimension(L*W*H) | 9m*2m*4m | 9m*2.4m*4m | 9m*2.4m*4m |
| Packing size | 9.2 M3(2 cases) | 14 M3(3 cases) | 14 M3(3 cases) |